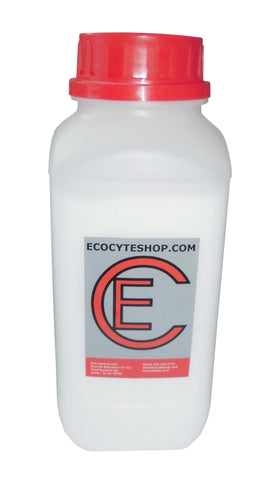 Sodium bicarbonate ( Ph.Eur . , USP ) Pharma grade 1000 g
LRE-S-LC-1004-1
Sodium bicarbonate is a white, crystalline powder commonly used in any laboratory. Sodium bicarbonate is used as a pH buffering agent. The compound can react with both acids and bases. Sodium bicarbonate reacts with the carboxyl groups to give a fast-forming CO2 formation which has been used to test for the presence of carboxylic groups in proteins. Sodium bicarbonate has been observed to significantly decrease serum potassium levels as well as increase blood pH and bicarbonate concentration.


Specification
NaHCO3
Molecualr Weight: 84.01
CAS-Nr.: 144-55-8
EINECS 205-633-8
Physical and chemical data:
Form: powder
Odor: odorless
Melting point /melting range: 270°C
Solubility in / Miscibility with water at 20°C: 93 - 96 g/l
Appearance : A white or almost white, crystalline powder.
Solubility: Soluble in water, practically insoluble in ethanol 96 per cent. When heated in the dry state or in solution, it gradually changes into sodium carbonate

Total alkalinity%                                                             99.0 -100.5
Bicarbonate %                                                               >= 99.0
Ph. Eur. identification ABC                                           Conform
Appearence                                                                   Limpid
Appearance  C                                                              Colorless
Carbonates (pH Solution)                                             <= 8.6
Test normal Carbonate                                                 Faint pink color
Chlorides (Cl) ppm                                                       <= 150
Sulfur Compounds ppm                                               <= 150
Sulfates (804) ppm                                                       <= 150
Ammonium (NH4) ppm                                                <= 20
Test ammonia ppm                                                      <= 20
Arsenic (As) ppm                                                          <= 2.0
Calcium (Ca) ppm                                                        <= 100
Iron (Fe) ppm                                                                <= 5.0
Heavy metals (Pb) ppm                                                <= 5
Loss on drying (H20) %                                                <= 0.25
Free flowing density kg/dm3                                         0.8-1.2
European Pharmacopoeia                                            Conform 8th ed.
Information
Not for Food, Drug, or Cosmetic Use. Keep out of reach of children.
Delivery
1000 g in plastic chemical bottle made of HDPE with tamper-evident seal red PP with inner sealing cone If you have questions please contact us by phone or by email.
---
We Also Recommend
---