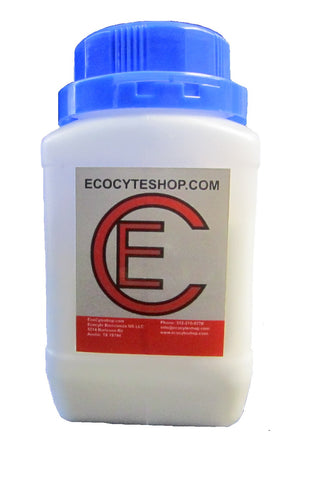 Hepes 250g (PH.EUR., USP)
LRE-S-LC-1007-1
HEPES (4-(2-Hydroxyethyl)piperazine-1-ethane-sulfonic acid) has been described as one of the best all-purpose buffers available for use in biological research. The molecule is zwitterionic at most biological pHs and is most effective as a buffer at pH 6.0 to 8.5. May be used in isoelectric focusing applications and as a buffer in the quantitative and selective measurement of antigen-antibody reactions. HEPES has no nutritional benefit to cells. The level of HEPES in cell culture media may vary from 10mM to 25mM. 
Hepes has high solubility and is membrane impermeable. It has limited effect on biochemical reactions and is chemically and enzymatically stable.
Specification
C8H18N2O4S
4-(2-Hydroxyethyl)-1-Piperazine-1-Ethanesulfonic Acid, N-(2-Hydroxyethyl)-Piperazine-N'-2-Ethanesulfonic Acid
Molecular Weight: 238.30
CAS-Nr.: 7365-45-9
EINECS 230-907-9
Physical and chemical data:
Form: white crystalline powder
Melting point /melting range: >234-238°C
Solubility in / Miscibility with water at 20°C: 40 g/100 ml
Storage: RT
Heavy metals (as Pb)      max. 0.001 %
Water                                max. 0.5 %
Chloride                            max. 0.05 %
Sulfate                              max. 0.05 %
Information
Not for Food, Drug, or Cosmetic Use. Keep out of reach of children.
Delivery
250 g in plastic chemical bottle made of HDPE with tamper-evident seal red PP with inner sealing cone If you have questions please contact us by phone or by email.
---
We Also Recommend
---